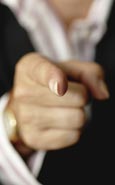 No arrest, no matter how seemingly small, is ever taken lightly by the arrestee. No time handcuffs are locked around your wrists, and your hands are shackled behind your back is an easy time for anyone. It is a frightening experience.
Many arrests are unjust. Violations of probation are very common. You find yourself locked up without a bond, and it can be effected simply by a warrant of your probation officer signed by a judge. You can get a violation for failing to report to probation on a timely basis, failing to go to a drug test, or failing the drug test, failing to pay costs on time, or a new misdemeanor arrest for the slightest charge.
I don't think that you should get placed in jail for smoking marijuana, but it is against the law, and people do go to jail for possession as well as delivery of pot. Many more go to jail for now growing it, and the law offices of Norm Kent handle many hydroponic and cultivation cases in state circuit and federal courts in South Florida and throughout the country.
I would like to see every person who uses cocaine and winds up abusing it, and themselves, get the treatment they need and may be seeking. But using cocaine, and possessing it, or selling it, is illegal, and people go to jail for it.
The bottom line is that your arrest, or the arrest of a loved one, will throw your life into disorder. And to bring order to the chaos you need an effective advocate, a capable attorney, a strong individual to stand by you in court. You want an attorney who is going to fight for you from day one, immediately available to lower a bond if the one set is already too high. You want out of jail.
At the law offices of Norm Kent, we explore the person, the arrest, the police conduct, the search warrants, and the entirety of the criminal charge. We employ pre-trial consultants and investigators. If necessary, we hire sentencing consultants to prepare presentence reports. If the problem is drug abuse, we find counselors and therapists to address the needs of the defendants.
In the courtroom and out, we will depose arresting officers, challenge illegal searches, fight to keep out tainted evidence, aggressively and meticulously examine police reports that might falsify facts to enhance the state's case at the defendant's expense.
For over two decades, we have been forthright in defending a citizen's rights to a fair trial and due process. We pioneered medical necessity as a defense for glaucoma and AIDS patients in the State of Florida. We have won battles for privacy rights for clients. We have had the arrests of men and women thrown out of court for unlawful entrapment . Mostly, we stay prepared and meet the challenge to protect your rights. It is not a cheap task. Though arrested for a charge you think unjust or unfair, it costs you money to assert your innocence.
Misdemeanor cases generally run up to $3,000.00 in fees. Felonies are much higher, with drug cases beginning at $3,500.00. These figures do not include costs or all cases. Every case is evaluated based upon the number of counts, the sentencing possibilites, and the gravity of the charges.
For an appointment, call the Law Offices of Norm Kent anytime at 954-763-1900.