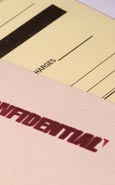 If you want to seal your criminal record
If you have been arrested and charged with a crime in the past, you probably already know how that singular event can thrust your life into utter chaos. Criminal charges, even of a minor nature, have the potential to impact greatly on your finances, employment and social life. Further, the negative aspects of being criminally charged can reach far beyond the immediate effects. In fact, the lingering effects of having a criminal record can haunt you for the rest of your life.
The most common danger associated with having a criminal record is the effect it can have on your ability to gain quality employment. It is commonplace for employers to routinely conduct background checks on prospective employees. In addition, background checks can occur in relation to applications for credit, housing, education, state licensing, and other important areas of your life. Some private investigators even offer to run criminal background checks for people who want to check out their new boyfriend or girlfriend.
If you have been found guilty or pled no contest to any crime, that information is part of the public record and can be easily detected using a routine background check. Even if you have had the charges against you dismissed or been found "not guilty", there will still be a public record reflecting that you have been arrested and what you were charged with.
Fortunately, the State of Florida offers you the opportunity to seal your criminal record, if you meet certain requirements. If you meet the applicable criteria, you can have your records sealed and removed from public view. Once records are sealed, the file will be physically sealed by the clerk adn the contents of those records could only be revealed under very limited circumstances (usually involving application for law enforcement, military, educational or sensitive governmental employment and licensing).
The Criteria for Sealing a Criminal Record
(1) Withheld Adjudication — In order to seal a criminal record where you have been found guilty or pled no contest, it is required that the Judge "withheld adjudication" in sentencing you. If you have been "adjudicated" by the judge, then you are not eligible for sealing.
(2) No Prior Adjudication — You may not seal a criminal record if you have any prior criminal case where you were "adjudicated".
(3) No Prior Sealing — You only have one chance to seal a criminal record. If you have already sealed a record in a prior criminal case, you may not seal the record of any subsequent case.
(4) Type of Offense — Criminal records for certain types of offenses cannot be sealed. If you have been convicted of or pled no contest to the following crimes, regardless of whether adjudication has been withheld, you cannot have those records sealed:
-Arson;
-Aggravated Assault;
-Aggravated Battery;
-Illegal use of explosives;
-Child Abuse or Aggravated Child Abuse;
-Abuse or Aggravated Abuse of an Elderly or Disabled Person;
-Hijacking
-Kidnapping;
-Homicide;
-Manslaughter;
-Sexual Battery;
-Robbery;
-Carjacking;
-Sexual Activity with a Child Between 12 and 18 years of age;
-Burglary of a Dwelling;
-Stalking or Aggravated Stalking;
-Domestic Violence;
-Home Invasion Robbery;
-Sexual Battery (chapter 794);
-Lewd, Lascivious, or Indecent Assault or Act Upon or in the Presence of a Child;
-Organized Fraud (section 817.034);
-Sexual Performance by a Child;
-Official Misconduct by Public Officer (chapter 839); or
-Trafficking in Controlled Substances (section 893.135).
If you meet this criteria, you are most likely eligible to have your criminal record sealed. This process is accomplished by applying to the Florida Department of Law Enforcement for a petition of eligibility and then submitting that petition to the Judge who handled your case. The Judge will then issue an order to clerk of court that your record be sealed from public view. The entire process usually takes between 6 and 8 months, and when it is complete you will be able to enjoy a greater degree of privacy and peace of mind.
My office can assist you in relation to sealing a criminal record. I have assisted numerous clients in this area and can help you navigate the often complex bureaucratic system which you will face. For a very affordable and reasonable fee, I will guide you through each and every step of the process, including:
-determination of whether you meet the eligibility requirements for sealing prior to submitting your application;
-preparation of the documents and items which must be submitted to the Florida Department of Law Enforcement;
-presentation of the necessary documents to your Judge; and
-explanation of who may and may not view a sealed record.
If you would like to speak with an attorney from my office about sealing a criminal record, please do not hesitate to call at 954-763-1900.