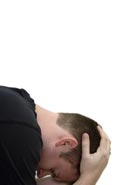 PROBATION OR JAIL
If you do not complete probation successfully, you may be arrested and will inevitably be placed in jail. It's that simple. If you want to avoid jail, you must follow the terms and conditions of probation that the Court has set out for you.

REPORTING
This is the major reason that people violate probation. More people go to jail for not reporting than for any other violation.
If you fail to file your written monthly report EVERY month, the Judge can send you to jail. There is no reason for not reporting! Even if you are in the hospital (or your car breaks down, your baby is sick, someone died, etc.) you should call your Probation Officer and ask them to let you report later. IF YOU ARE COOPERATIVE WITH YOUR PROBATION OFFICER, THEY WILL USUALLY BE COOPERATIVE WITH YOU.
When you call the Probation Office, always get the name of the person who spoke to you (otherwise, it's as bad as if you had never called). If you report in and you speak with someone other than your regular officer (even if it's the "Officer of the Day"), always write down their name so you can keep a record of the visit.
If you never report in, you will be sent to jail. If you stop reporting, you will be sent to jail. A report must be filed monthly between the lst and 5th day of each month (even if you are late, file a report for every month).
If you cannot pay your fees, you MUST still report to probation each month.. You cannot be sent to jail just for not paying. You will get a chance to explain to the Judge why you can't pay, but you still have to report.
PROBATION PAYMENTS
You can be violated for not making your monthly payments for probation restitution-court costs ONLY if you have the ability to make the payments.
If you are healthy and able to work, the Court will probably find that you had the ability to make payments. Also, if you can't make the full payments each month, pay whatever you are able. It looks a lot better to the Judge that you are trying your best than if you had done nothing at all.
If you have some sort of money crisis or hardship, tell your probation officer and they may be able to set a hearing to reduce your costs of supervision. Even if you can't make your payments, ALWAYS REPORT TO PROBATION WHEN SCHEDULED.
GETTING ARRESTED
A new arrest – even a traffic offense (especially if you are driving on a suspended license) – will violate your probation. If you get arrested or violated, you will go to jail and you may stay there until your case is heard. You will be held in jail, generally with "no bond", until the final violation hearing is completed (which may take up to 1 month for some cases). The judge is not required to set any bond while you wait.
PROBATION AND DRUGS
Drugs and probation DO NOT MIX. Your probation officer may require you to give a urine sample at ANY time during your probation to test for drug/alcohol use. If you refuse to give the sample or if it tests positive for any illegal drugs, you will be violated.
The Judge or your probation officer may require you to have a drug/alcohol evaluation and attend ANY treatment that is recommended. If you do not cooperate with this drug/alcohol treatment, you can also be violated. The Judge will treat this violation very seriously!
PROBLEMS WITH YOUR PROBATION OFFICER
If your Probation Officer tells you to do something, DO IT! If you have a problem, ask to speak to their supervisor. If that doesn't work, contact your attorney or write to the Judge.
THE FOLLOWING PROCEDURES OUTLINE THE STEPS TO BE TAKEN BY A PROBATIONER OR PAROLEE WHO HAS A COMPLAINT CONCERNING ACTIONS OF SUPERVISION.
(Violation activity is not grievable, as all parties are heard in the process of that procedure)
The offender should try to resolve the problem with his/her Probation or Parole Officer.
If the issue is not resolved with your Officer, a written complaint by you, the offender, may be submitted to your Officer's immediate supervisor. The Supervisor will respond in writing within 15 working days of the receipt of the complaint, with a copy to the Circuit Administrator, of both the complaint and his/her response.
In the event the issue is not resolved with the Supervisor, contact may be made by the offender with the Circuit Administrator for purpose of review. The Circuit Administrator shall respond to the offender within 10 days of the contact.
In the event the issue is not resolved with the Circuit Administrator, contact may be made by the offender with the Regional Director for review. The Regional Director shall provide written response within 30 days, with a copy to the Department of Corrections Inspector General's Office.
In the event an offender feels that his/her Civil Rights have been violated, he/she may appeal to the Civil Rights Office.
IF YOU HAVE VIOLATED YOUR PROBATION
If you know that you are in violation of your probation, it always looks better to the Judge if you surrender yourself to your probation officer or to the police (instead of the police arresting you when you get stopped for something else – or, even worse, getting arrested in another State and being extradited back to Florida).
Once you have violated, you do NOT have a right to bond. You do NOT have a right to a jury trial for the violation. You do have the right to have a hearing before the Judge. For the Judge to violate you, the State Attorney only must "satisfy" the Judge that you have violated (that's the law). IT'S VERY EASY TO CONVINCE A JUDGE THAT YOU ARE IN VIOLATION OF PROBATION!
Once a violation of probation warrant is issued, it will be valid for the rest of your life unless you come back and take care of it. Even if you live in another State, if you get stopped for a ticket and they run a license check, you will be arrested and sent back to Florida. You will go before the same Judge that put you on probation (and the Judge will even make you pay for the costs of shipping you back to Florida).
EARLY TERMINATION
Now for some GOOD NEWS! If you are successfully completing your probation, you may seek to have it terminated (ended) early by calling my office to set a hearing before the Judge. You must be current on your monthly payments and restitution (if any), and generally, your probation officer must be willing to recommend it to the Judge. Usually, we can proceed after half your time is up, but not with all Judges.
After your probation is ended, if this was your only arrest EVER, ANYWHERE, FOR ANYTHING, and adjudication was withheld, you can get your arrest records sealed permanently.
***DON'T BE STUPID – REPORT, PAY AND STAY OUT OF JAIL***