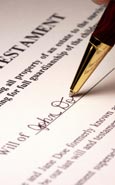 Everyone should have a carefully written Will disposing of their property as they wish at the time of their death. Your Will should name an executor who will handle the distribution of property and the payment of any debts.
We handle probate of estates on behalf of people named as executors for family and friends. In these cases, we help executors get approved by the probate court, gather all the assets of the estate, pay its bills, file inventories and accountings with the court, and distribute the estate as directed by the Will. If there are issues of undue influence over the deceased, or a question of mental capacity at the time the will was signed, we can represent either Will Contests or defenses of Will Contests as needed.
Living Wills, Power of Attorney
It makes good sense to prepare a Living Will, giving your personal instructions about the circumstances under which you want to be kept alive using extraordinary means after a severe accident or illness. Many people also prepare a Medical Power of Attorney, which gives the authority for medical decisions to a person you designate if you are incapacitated. Others prepare a General Power of Attorney, to empower another person to handle everyday affairs for you.
What should you do?
Contact a lawyer
You should always hire a lawyer to prepare your Will so every provision is properly handled. This helps avoid unpleasant and complicated Will Contests after a person's death.
What are our fees?
We handle Wills for a flat fee, unless they are especially complicated. Probate is normally handled on an hourly basis with a retainer up front. Will Contests are either handled on a contingency fee basis, or an hourly rate with a retainer up front.