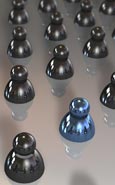 Discrimination against individuals because of their race, creed, color, age, or sexual orientation is often invidious, silent, and extraordinarily difficult to prove in a court of law. As transparent as it is to the victim, it is equally covert in its administration. But discrimination is a violation of our laws and your rights.
At the law offices of Norm Kent, when and where we can, we vigorously oppose discrimination in any form. It is not an easy task. Establishing discrimination claims means jumping over and through legal hoops and obstacles. It means challenging the status quo and the way things have been.
To make a claim against an employer for sexual harassment, you may have to meet federal guidelines, establish that your firing was not for cause, and insure that you have comported with established rules and procedures for articulating your claim.
To make a claim against a police agency, you must first overcome the burden of sovereign immunity.
To pursue a civil rights complaint, you may have to exhaust administrative remedies or be heard at the equal employment opportunity offices.
Sometimes, as in overcrowded juvenile detention centers, or where your constitutional rights are clearly violated, immediate judicial relief can be sought in Federal Courts. But the demands are great, the costs high and the relief slow. Sometimes justice delayed is justice denied.
The law offices of Norm Kent has successfully prosecuted class actions on behalf of gay men who were unlawfully detained in a police raid, and prevailed over the State of Florida Health and Rehabilitative Services in a cause of action designed to protect dependent and delinquent children. We have also sued for a patient's right to use marijuana as a medical necessity, and won cases for gay men harassed by law enforcement activity in local parks. We have successfully prosecuted and defended claims of defamation.
Fortunately, Broward County now has an ordinance that protects gay men and women from discrimination because of their sexual orientation. It is a tribute to the leadership and energy of two extremely competent gay attorneys who also practice in this field: Dean Trantalis and Robin Bodiford, both Fort Lauderdale based.
We cannot guarantee you victories in these difficult cases, only a diligent effort to explore and protect your rights as they are impacted by another's misconduct. The consultations in this field of law are free, and cases are accepted by the office only after a careful scrutiny and review. We look at the public interest issues involved; whether there is a likelihood we will succeed on the merits; and the strength of the individual's claim, as well as his or her willingness to go forward.
For an appointment, call the office at 954-763-1900.