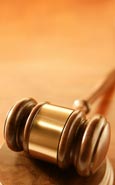 Norm's practice has been based in Fort Lauderdale, Florida for a quarter century, over 25 years. In June of 2002, the Sun-Sentinel referred to Norm Kent as one of Broward County's 25 most influential citizens. He has served as President of the Broward County Criminal Defense Attorney's Association, and as a member of the
National Association of Criminal Defense Attorneys
.
Active in his community, Norm Kent was the original Founder and Publisher of South Florida's award-winning GLBT newspaper, The Express. He also serves on the Board of Directors of the National Organization for Reform of the Marijuana Laws (NORML). Norm has also written and spoken on legal issues, having authored a chapter on Medical Marijuana Defenses in the newly-released: 'Cannabis in Medical Practice' .
Separate and apart from the law office, Norm Kent has written articles on legal and criminal defense issues in the Champion, and has appeared on CNN's Crossfire, NBC's Dateline,and Court TV as a legal commentator. He has also served as Editor in Chief of the Barrister, the Broward County Bar Association Journal, and Editor in Chief of Defense, a newsletter for criminal defense lawyers.On top of all this, Norm has become a nationally known AIDS advocate, having just finished a two year tenure as the executive director of AIDS Project Florida.
Aside from criminal defense, the law firm of Kent and Cormican takes cases of a constitutional nature impacting on the first amendment, libel, slander, the Federal Communications Commission decency guidelines, and the Bill of Rights. Norm's partner, Russell Cormican , a Florida State University law school graduate, has successfully litigated appellate issues on Internet sexual entrapment, defamation, and obscenity.
Norm Kent has stated that there is one central theme in the causes he undertakes and the cases he litigates : "The essence of the first amendment is to protect the voices people find offensive; to insure that the society we live in does not restrict the rights of any to simply secure the convenience of the many… You have to allow what you truly don't like. We don't need a first amendment for people that agree with us. "
Having served as a law professor in undergraduate schools and as a full time morning drive radio talk show host on WFTL 1400 AM.and LIVE 85, 850 AM, ( www.normkentshow.com )
Norm brings a passion and zeal to his practice."But before you hire any lawyer," he adds, "make sure you are comfortable with the relationship, their skills, and that they have your trust."
The law offices can be reached at 954-763-1900.